An emergency government plan to prevent an "escalating epidemic" from striking the food supply descended into chaos, as industry leaders condemned the scheme as an "absolute disaster" that did more harm than good.
With train services also disrupted on Saturday due to the number of workers self-isolating, airports reporting long queues at passport controls and the hospitality industry warning of a summer shutdown, Downing St defied growing calls for a full relaxation of quarantine rules from the scheduled August 16 deadline.
In an effort to prevent more empty supermarket shelves and avoid broader economic damage, ministers last Thursday bowed to continued pressure from the food industry, announcing that about 10,000 workers in the sector would be exempted from the rules if they tested negative on a daily basis. Others in key sectors of the economy and vital public services are also included in the emergency plan.
But many food industry leaders responsible for the supply chain told Foreman The procedures were very poorly handled and miscommunicated which exacerbated the crisis.
James Pilby, of the Federation of Wholesale Distribution (FWD), which supplies food to outlets other than supermarkets, said the industry still didn't know who was actually on the list of exempt groups. Of the 500 listed companies, only 3% were notified.
"It's a complete mess. There are 15 companies that were part of the initial run [of the scheme] On Friday, but there are supposed to be 500 companies in total, it's completely dark."
Shane Brennan, chief executive of the Cold Chain Consortium, the organization that represents companies that transport frozen and refrigerated foods, said: "After several days of telling the Prime Minister that the food supply chain was critical and would be exempt, we still don't have a definitive list of who will be exempt and what is required of them. Businesses struggle to keep food on the shelves, and I regret that despite good intentions in some places, the government is doing more harm than good.
"We live day in and day out. Those companies that can operate are doing their absolute best. But no one feels confident predicting what will happen tomorrow, and few trust that officials have control of the situation."
A sense of confusion and crisis has completely overshadowed government efforts to open up the economy since last Monday's so-called Freedom Day, which was supposed to mark a return to something close to normal after 16 months of Covid restrictions.
Instead, more than a million people spent the first week of "freedom" self-isolation – threatened by food shortages, transportation chaos and widespread disruption during the summer holiday period.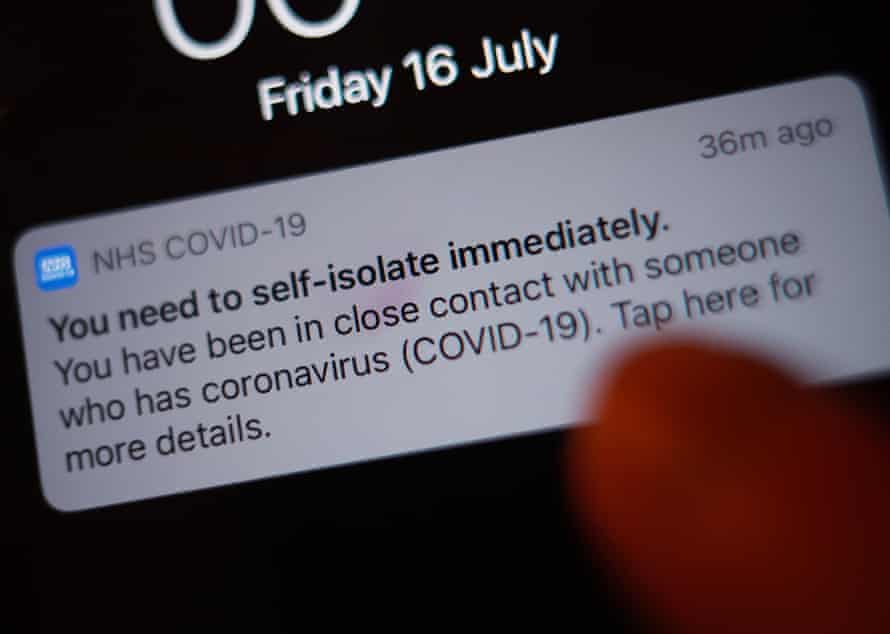 The chief executive of the British Frozen Food Association, Richard Harrow, said ministers had failed to understand how the food supply industry worked: "It shows that once again the government does not understand how the food supply chain is connected. Only the opening part is likely to solve the overall problem."
The former health minister and chair of the House of Commons Health and Social Care Select Committee, Jeremy Hunt, has warned the government is at risk of "losing social approval" for self-isolation unless it provides a broader relaxation of quarantine rules immediately.
But the British Medical Association said the problem was not the "excessive wheezing" of the NHS Covid-19 app but the government's coronavirus strategy causing "case numbers to increase". Its chairperson, Dr Chand Nagpol, said the isolation numbers were a "direct result of the lack of effective measures by the government allowing the virus to spread across the country".
However, case numbers began to decline. Saturday's number was 31,795 – the seventh in a row in which daily cases are below the recent high of 54,674. Scientists, for now, are still unsure whether that means the peak has passed, or whether the numbers will rise again. With more people removing their masks and forgoing social distancing after Freedom Day.
Bilby added that although he has repeatedly asked the Department of Environment, Food and Rural Affairs (Defra) for more clarity since the waivers were announced last Thursday, his organization was no wiser yesterday. "They don't really know right now, the whole scheme was done on a hoof, fast. They didn't think about it."
Bilby also mocked a separate government system designed to allow employers to obtain exemptions from self-isolation for their key employees. He said a Defra email address has been created to allow employers to lobby for employees who have come under pressure to be relieved. "If you're stressed at night and you're due to go to work the next day, the idea that you're going to tell your boss after that who emailed the hotline and got a response in time to start the morning shift is funny," he said.